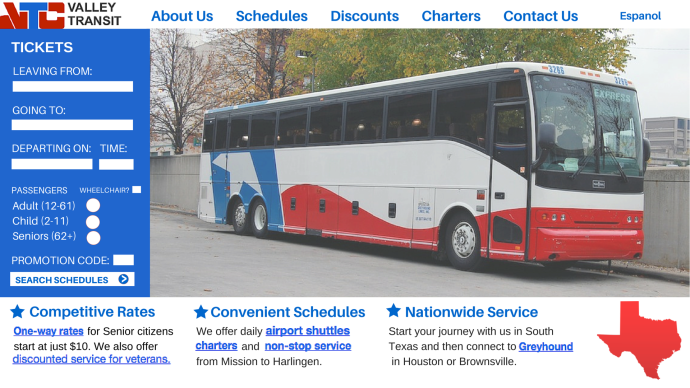 When browsing websites for Greyhound bus lines,  I noticed that one of their subsidiaries Yo! Bus had some interesting branding geared towards its target of Millennials in the NYC / Philly area. When I started looking at Valley Transit Company, I thought it would be an interesting exercise to refresh their branding and copy as well. I then re-wrote the website, attempting to make it more engaging and SEO friendly, while giving their patriotic branding a conversational look and feel.
If Valley Transit really wanted to get serious about SEO, they could change their name to South Texas Transit Company (the domain is available) with a 301 re-direct to their new web address. This way, they would have "South Texas" in their URL, which is an important key word from a local search standpoint.
Please note this is a spec campaign – the deals are not real, and copy has not been approved by Valley Transit Company. Images are not my own and have been pulled from various royalty-free sites.